Barbara and Al Siemer honored with McCoy Community Service Award
Fareed Zakaria announced as moderator of February 1st Generals Panel and journalist
Chris Matthews announced as new addition to the 2017-2018 Jefferson Series
The New Albany Community Foundation's 16th annual Remarkable Evening benefit hosted by Abigail and Les Wexner at their New Albany home on the evening of December 5th. The featured speaker for the evening was General Colin L. Powell, who served as a Four Star General in the U.S. Army, U.S. Secretary of State, Chairman of the Joint Chiefs of Staff and National Security Advisor. David Gergen, one of the country's premier political journalists and director of the Center for Public Leadership at the Harvard Kennedy School, interviewed Powell on topics of national security, international diplomacy, foreign policy and other current events.
Funds raised from the event support the Foundation's annual grant making to area not-for-profit organizations and to build Foundation endowments. Funds raised also support The Jefferson Series, an ongoing Foundation lecture program that features an impressive lineup of world leaders, Pulitzer Prize-winning authors and historians that have visited New Albany. In addition to community lectures, Jefferson Series speakers have interacted with over 10,000 central Ohio students during their visits.
As the author of several books, including "It Worked for Me: In Life and Leadership," General Powell, reflecting on the purpose of the evening, said to the guests, "I congratulate you on taking the success you have been able to achieve and using it to help others, especially young people."
New Albany residents Abigail and Les Wexner host and underwrite the Remarkable Evening speaker each year so that proceeds can be reinvested through the Foundation into community initiatives in the areas of lifelong learning, health and wellness, the arts and the environment.
Since its inception, the Foundation has awarded over $11 million in grants to area not-for-profit organizations that enrich lives, including:
$3.7 million toward education & lifelong learning
$5.6 million toward arts & culture
$1.2 million toward health & wellness
$500,000 toward environment, historic preservation & community initiatives
These grants are made possible through the support of generous donors and sponsors who contribute annually through Remarkable Evening or have established endowments at the Foundation. In addition to the Wexner Family, lead sponsors for this year's Remarkable Evening include American Electric Power, The Berend Family & White Fence Surgical Suites, Huntington, Justice, The New Albany Company and Nickolas Savko & Sons, Inc.
Several significant announcements were made during the evening:
New Albany residents Barbara and Al Siemer received the 2017 Jeanne and John G. McCoy Community Service Award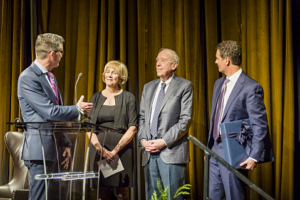 The Jeanne and John G. McCoy Community Service Award was established by the Foundation in 2004 to recognize citizens who have made a significant impact on the community through their accomplishments, contributions and community service in keeping with the mission of the Foundation. Through their remarkable philanthropy in New Albany and central Ohio, Jeanne and John G. McCoy embodied the spirit of this award and were the first to be honored with the distinction in 2004 when it was established in their name.
Barbara and Al Siemer have been engaged in community betterment throughout their lives. As Foundation Board Chair Dr. Keith Berend stated, "The impact of the Siemers' leadership is felt in New Albany, throughout central Ohio and in more than 50 cities across the country that are fortunate enough to have The Siemer Institute working to support family stabilization."
In accepting the award, Al Siemer said, "This is our passion and our life's work, and we encourage everyone to find a cause that matters to them and work to make an impact. Like us, you'll get so much in return. It really has enhanced our lives in immeasurable ways."
Past recipients of The McCoy Award include:
2004 Jeanne & John G. McCoy
2005 Janet Atwater
2006 Dr. Ralph Johnson
2007 Bill Resch
2008 Don Cameron
2009 Dr. Phil Heit
2010 The Ryan Family
2011 Tiney McComb
2012 Bob Schottenstein
2013 John W. Kessler
2014 Jackie & Ken Krebs
2015 Jennie & Mark Wilson
2016 Cindy & Keith Berend
The Foundation announced an additional speaker for 2017-2018 The Jefferson Series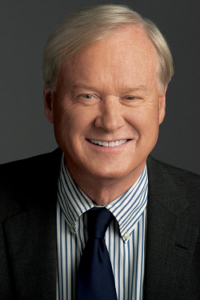 In its fifth season of hosting a rich diversity of speakers including entrepreneurs, best-selling authors, journalists, historians and more, The Jefferson Series opened its 2017-2018 season in October with beloved journalist Charles Osgood. Due to demand for tickets, it was announced that journalist Chris Matthews, who just released his new book, "Bobby Kennedy: A Raging Spirit," will visit New Albany on April 17, 2018.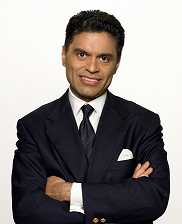 Additionally, it was announced that the forum featuring Generals Michael Hayden, Stanley McChrystal and Peter Pace, which has been sold out since August, will be moderated by CNN Host, Columnist and Global Thinker Fareed Zakaria. This will be Zakaria's second appearance as part of The Jefferson Series, having spoken and interacted with students during the 2015-2016 season.
The remaining Jefferson Series lectures are as follows:
SOLD OUT – February 1, 2018 – Generals Michael Hayden, Stanley McChrystal and Peter Pace moderated by Fareed Zakaria
LIMITED TICKETS AVAILABLE – May 9, 2018 – Elizabeth Vargas
NOW ON SALE – April 17, 2018 – Chris Matthews
The New Albany Community Foundation and its donors are working together to build an extraordinary community. The Foundation develops collaborative partnerships and invests in transformational projects that benefit all residents and contribute to the greater good: developing a community of life-long learners, creating culture of wellness, enriching the community through the arts and supporting a sustainable environment. By championing forward-thinking initiatives, the Foundation and its donors have already had a significant positive impact.