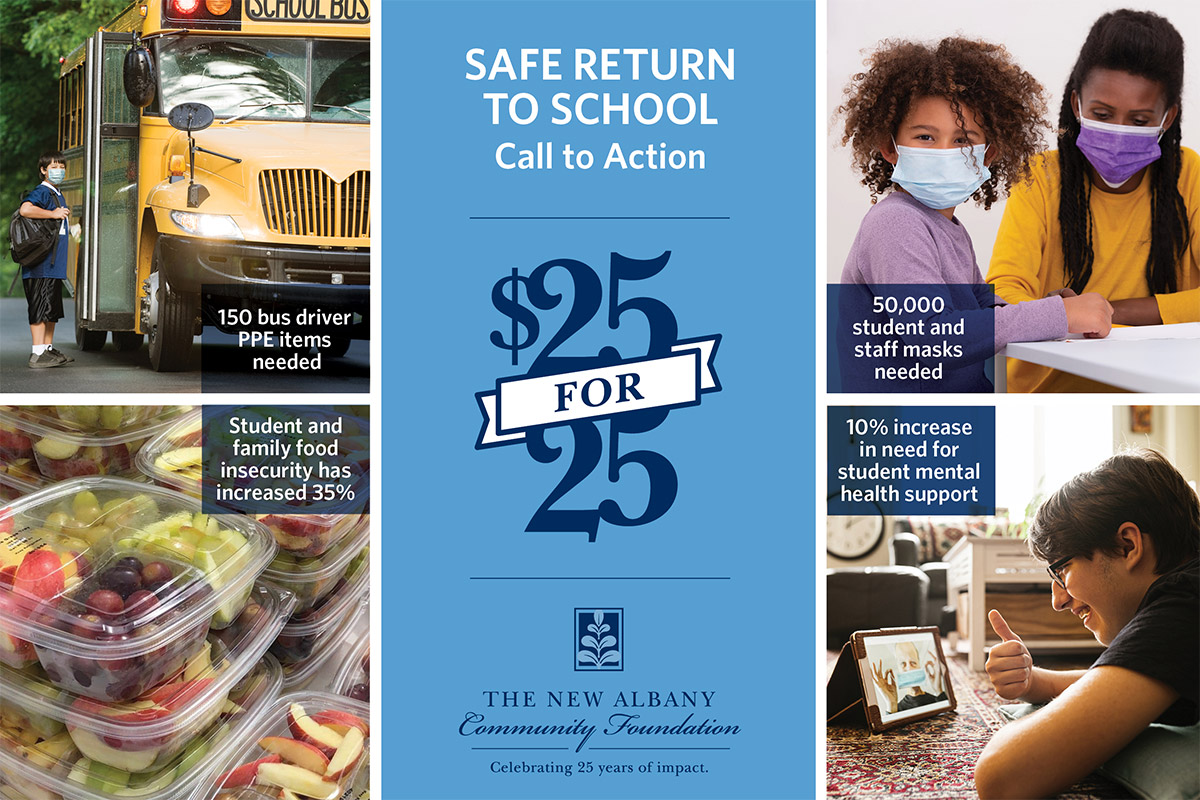 SAFE RETURN TO SCHOOL CALL TO ACTION
As our school district prepares for reopening, the top priority is the purchase of the safety equipment required to ensure a safe return to school for all students and staff. The New Albany Community Foundation is pleased to announce a matching grant pool of up to $25,000 for gifts to the COVID-19 Assistance Fund.
By donating today, your gift will be doubled and used for PPE equipment and sanitizing stations throughout the campus, mental health counseling and food support.
Your Gift Supports:
Critical Food Resources
$35 provides 3 meals daily for 1 student in need per month when provided by the New Albany Food Pantry.
Eliminate food insecurity in New Albany-Plain Local Schools by supporting students and families in need with food and critical resources through the New Albany Food Pantry.
PPE Equipment for Students and Staff
$100 supports 100 masks for students and PPE for 4 bus drivers.
Enable a safe learning environment for all students and staff by supporting the purchase of personal protective equipment and safety equipment needed to ensure a safe return to campus for students and staff, such as face shields, masks, handwashing stations and infrared thermometers.
Student Success
Your gift of any size will help provide financial support to students in need who cannot afford participation fees.
Support student success for students from families experiencing financial stress caused by COVID-19. So all students have the opportunity to participate in extracurricular activities, scholarships will be awarded to those who cannot afford participation fees.
Mental Health
$75 helps offset costs for 1 student without insurance to attend a therapeutic counseling session.
Provide mental health counseling to struggling students. School counselors connect students with professional counseling to support the students' daily social emotional needs.
Click here to view a full list of items needed for a safe return to school totaling $275,000.