Melanie and Michael DeAscentis Family honored with Jeanne & John G. McCoy Community Service Award
New Albany Community Foundation receives leadership gift from the Raines Cadieux Family in support of the Rose Run Park/Corridor
---
NEW ALBANY, OHIO (December 16, 2019) – The New Albany Community Foundation's 17th annual Remarkable Evening benefit hosted by Abigail and Les Wexner at their New Albany home on December 3rd reached capacity with nearly 500 in attendance. The event featured former U.S. Ambassador to the United Nations (2017-2019), Nikki Haley, interviewed by Professor of Public Service, Founding Director of the Center for Public Leadership at the Harvard Kennedy School, David Gergen.
Funds raised from the event support the Foundation's annual grantmaking to area not-for-profit organizations and support community projects and initiatives. Funds raised also support The Jefferson Series, a leading lecture series presented by the Foundation that features distinguished diplomats, experts on foreign policy, national security, health, Pulitzer Prize-winning authors, journalists and historians. In addition to community lectures, Jefferson Series speakers have interacted with more than 14,000 students representing school districts across central Ohio.
Since its inception, the Foundation has awarded over $13 million in grants to advance lifelong learning, the arts, health and wellness and environmental sustainability. These grants are made possible through the support of generous donors and sponsors who contribute annually through Remarkable Evening or who have established endowment funds at the Foundation. Contributions have also helped make possible transformational projects like the New Albany Branch Library, the Jeanne B. McCoy Community Center for the Arts, the Philip Heit Center for Healthy New Albany and the highly anticipated Charleen & Charles Hinson Amphitheater.
Lead sponsors for this year's Remarkable Evening included American Electric Power, The Berend Family and JIS Orthopedics, Facebook, Huntington, The New Albany Company, Nickolas Savko & Sons, Inc. and Dan Snyder & lower.com.
Melanie and Michael DeAscentis, Jr. received the 2019 Jeanne and John G. McCoy Community Service Award
The Jeanne and John G. McCoy Community Service Award was established by the Foundation in 2004 to recognize citizens who have made a significant impact in the community through their leadership, philanthropy and volunteerism. Through their philanthropy and community service in New Albany and central Ohio, Jeanne and John G. McCoy embodied the spirit of this award and were the first to be honored with the distinction in 2004 when it was established in their name.
This year's McCoy Award honorees, Melanie and Michael DeAscentis, Jr., exemplify the values modeled by the McCoys by leading and contributing in ways both public and private. Melanie and Michael DeAscentis, Jr. began their lives in New Albany when their three children were young. From the beginning, their family has supported the success of many New Albany institutions, including the New Albany Branch Library, the Church of the Resurrection, The Jeanne B. McCoy Community Center for the Arts and The New Albany Community Foundation.
Melanie and Michael are also actively engaged throughout central Ohio in a variety of organizations that improve lives by providing supportive services to those in need, including Flying Horse Farms, Pelotonia, Ronald McDonald House, The Center for Family Safety and Healing, The Ohio State University Comprehensive Cancer Center – Arthur G. James Cancer Hospital and Richard J. Solove Research Institute and many more.
Reflecting on Michael's leadership, fellow trustee Jack Kessler said, "Michael was a transformative leader for the Foundation as its board chair. He's a strategic thinker and they're an extraordinarily generous family. Most people will never know how profoundly they have impacted our community because they don't seek attention, but they have been wonderful to our community."
In accepting the award, Michael DeAscentis, Jr., said, "I've learned a lot over the years about how to build a community from the team that is here tonight that really built the foundation. Melanie and I are just so fortunate to raise our kids here in New Albany."
Recipients of The McCoy Award include:
2004 Jeanne & John G. McCoy
2005 Janet Atwater
2006 Dr. Ralph Johnson
2007 Bill Resch
2008 Don Cameron
2009 Dr. Phil Heit
2010 The Ryan Family
2011 Tiney McComb
2012 Bob Schottenstein
2013 John W. Kessler
2014 Jackie & Ken Krebs
2015 Jennie & Mark Wilson
2016 Cindy & Keith Berend
2017 Barbara & Al Siemer
2018 Leslie H. Wexner
2019 Melanie & Michael DeAscentis
Major Gift announcement made to support the Rose Run Corridor:
The evening included the announcement of a $500,000 contribution from the family of Sandy Raines and Ron Cadieux to support the Rose Run Park/Corridor. Over twenty years ago, the Raines and Cadieux families merged and made New Albany their home. Their family prioritized being actively engaged in the community and takes pride in being a part of the continued development of New Albany.
This gift continues a tradition of giving back to the community by the Raines/Cadieux family. Sandy and Ron pointed to a very personal family emergency during which the New Albany community responded with extraordinary warmth, care and support. Their daughter Laura was in an accident in an elevator. "This caring community wrapped our family up with love and kindness," said Sandy Raines. "It was more than we could ever have imagined. We believe life doesn't happen to you; it happens for you – experiencing this hardship while receiving the outpouring of support truly emphasized this sentiment." Raines Crossing is envisioned to be a place where families can connect, play and enjoy, and is a gesture of gratitude for a community that showed up when the Raines and Cadieux family needed it most.
The addition of Raines Crossing will be a wonderful civic asset that brings people together; and improves safety for school children who are crossing between the school campus and the town center.
More than 14,000 students have participated in Jefferson Series student lectures
The New Albany Community Foundation announced that as of December 2019 more than 14,000 students have participated in the Jefferson Series student lectures, representing 25+ schools across central Ohio. Now in its seventh season, The Jefferson Series opened its 2019-2020 season on October 1st with a panel discussion featuring Dr. Madeleine K. Albright and General Colin L. Powell USA (Ret.) moderated by Dr. Fareed Zakaria.
Three New Albany High School students who attended The Jefferson Series season opener participated in the Remarkable Evening program. Seniors Abdul-Azeez Ahmad, Lydia Artz and Bilan Yakoub welcomed Ambassador Haley and shared with the audience how exposure to these esteemed leaders impacted each of them.
The panel discussion hosted a sold-out audience and included reflections from Albright and Powell on their time as advisors to multiple administrations on matters of national security and diplomacy, as well as what gives them hope for the country's future.
The evening was later featured on CNN's Fareed Zakaria GPS, which placed New Albany in the international spotlight, broadcasted all over the world on Sunday, October 6, 2019.
On January 28, The New Albany Community Foundation will host Former Senior Advisor to President Obama, Valerie Jarrett and Former Speaker of the U.S. House of Representatives, Newt Gingrich for the second annual program from the New Albany Center for Civil Discourse and Debate.
The remaining Jefferson Series lectures are as follows: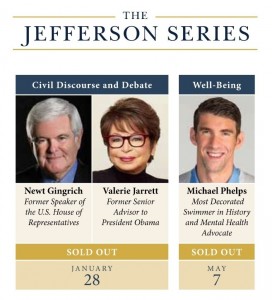 *All remaining Jefferson Series forums are now sold out but guests can be added to the waitlist. Those on the waitlist will be contacted in the order received when tickets become available.
The New Albany Community Foundation and its donors are working together to build an extraordinary community. The Foundation develops collaborative partnerships and invests in transformational projects that benefit all residents and contribute to the greater good: developing a community of lifelong learning, the arts, health and wellness and environmental sustainability. By championing forward-thinking initiatives, the Foundation and its donors have already had a significant positive impact.
Contact: Craig Mohre
craigmohre@newalbanyfoundation.org
614.939.8150