Newt Gingrich and Valerie Jarrett, Michael Phelps, plus a Fareed Zakaria moderated panel discussion featuring former Secretaries of State Madeleine Albright and Colin Powell on tap for the seventh season
Tickets to the 2019-2020 Jefferson Series go on sale Wednesday, August 21st at 10:00 am through Ticketmaster. All of the lectures are expected to sell out quickly, with ticket prices at $35, $25 and $10 for students, senior citizens and veterans. Generous Jefferson Series sponsors and Foundation donors have enabled the Foundation to keep tickets accessible for the community.
Inspired by Thomas Jefferson's appreciation for lifelong learning, The New Albany Community Foundation established The Jefferson Series in 2014. It features a collection of stimulating forums with some of the most compelling and influential thought leaders of our time.  The series provides a platform for the free exchange of ideas and varying viewpoints in a respectful, civil manner.  And in doing so, the series remains true to its namesake's strongly held belief that each of us "light his taper at mine … that ideas should freely spread from one to another.
The 2019-2020 Jefferson Series season features the following: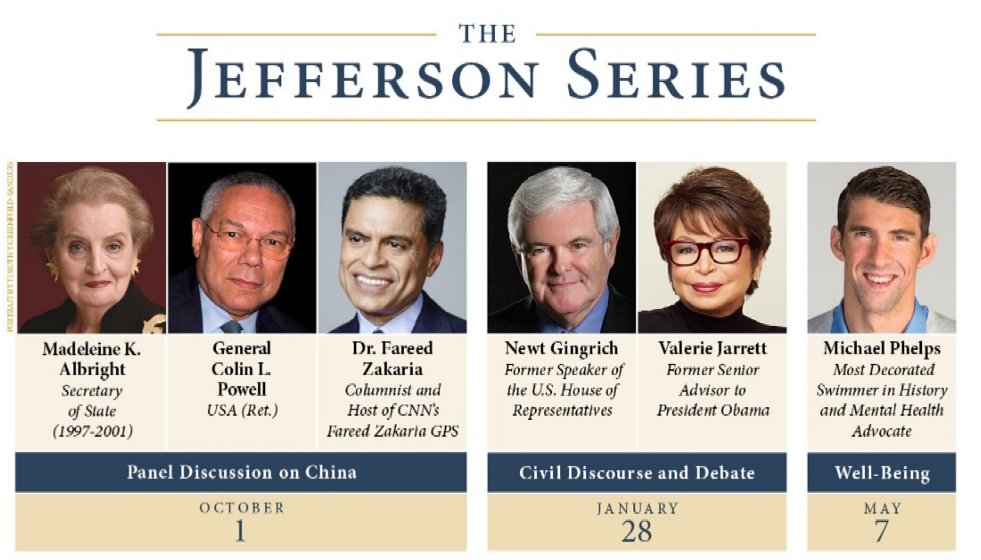 For the second year in a row, the Foundation will participate in the New Albany Center for Civil Discourse & Debate by presenting a program that highlights opposing views on timely, relevant issues. The center was established by New Albany residents, Barbara and Phil Derrow.  This year's presentation will feature a lively discussion between former House Speaker, Newt Gingrich and advisor to President Obama, Valerie Jarrett.
"It is important, as a community, to always challenge ourselves to see a perspective other than our own," said Phil Derrow, Founder of the New Albany Center for Civil Discourse & Debate. "It is necessary to push past our comfort zones, to engage in conversations that may make us uncomfortable and force us to broaden our outlook on the world around us. When we are better listeners, we are a better community."
Additionally, the Foundation will continue its effort to destigmatize the topic of mental health by presenting the most decorated swimmer in history and mental health advocate, Michael Phelps. In 2015 the Foundation first brought the mental health conversation to the community by presenting Mariel Hemingway. Her appearance stimulated productive dialogue among students as well as adults and the Foundation has continued to carry the topic forward with other presenters including Patrick Kennedy, Elizabeth Vargas, Glenn Close and this season's appearance by Michael Phelps.
"In the 2018-2019 Jefferson Series season, the Foundation was able to reach more area high school students than ever before. By providing thousands of students access to compelling speakers, the Foundation promotes lifelong learning and provides a platform for important dialogue. We're proud to partner with dozens of central Ohio schools to inspire the students," said Dr. Keith Berend, The New Albany Community Foundation Board Chair and Partner in JIS Orthopedics. "The positive response from the community and the undeniable eagerness from both adults and students alike to learn more affirms the need to bring in more speakers, more thought-provoking leaders, that reinforce the value in lifelong learning."
Jefferson Series lectures are made possible by the generous support  of The Barbara W. & Philip R. Derrow Family Foundation, Donna & Nick Akins Fund, Karen & Irving Dennis Family Fund, Redgrave Family Fund, Christine & Jeffrey Rodek Fund, Ryan Family Fund, Lynne & Steve Smith Family Fund, Michael & Nanette Triplett Fund, Leslie H. Wexner Jefferson Series Fund, Abercrombie & Fitch, Battelle, Conway Charitable Lead Annuity Trust, Beatrice Wolper, Trustee, Anonymous Donors, Bob-Boyd Lincoln of Columbus, Columbus Downtown Development Corporation/National Veterans Memorial and Museum, Columbus Partnership, Commercial Vehicle Group (CVG),  Daimler, The Ohio State University, Ruscilli, Mount Carmel, American Electric Power, AT&T, Chemical Abstracts Services (CAS), Columbia Gas: A NiSource Company, Fifth Third Bank, Messer Construction Co., NAI Ohio Equities, Nationwide Children's Hospital, Park National Bank, The Pizzuti Companies/Dream Industrial REI and Southeastern Equipment Co. Inc.
Founded in 1995 by forward thinking community leaders to advance the aspirations of the community in perpetuity, The New Albany Community Foundation invests in programs and initiatives that enrich the community in the areas of lifelong learning, health and wellness, the arts and a sustainable environment.  Since its inception, the Foundation has awarded over $12 million in grants to area non-profit organizations that enrich lives.
The Jefferson Series Speaker Bios: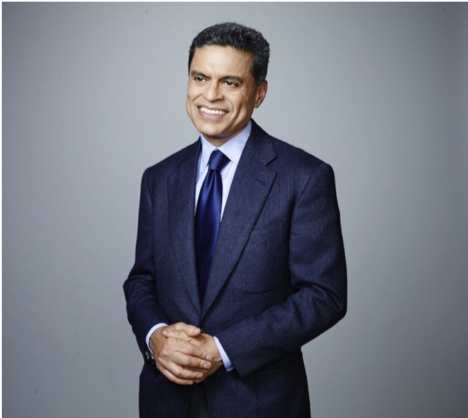 Dr. Fareed Zakaria (moderator), host of CNN's Fareed Zakaria GPS, contributing editor at The Atlantic, and Washington Post columnist, is widely respected for his thoughtful analysis and ability to spot economic and political trends. Esquire magazine described him as "the most influential foreign policy adviser of his generation."
Fareed Zakaria GPS, CNN's flagship international affairs program, is a destination for those seeking smart commentary and civil conversation about the big ideas and global challenges of our time. Winner of a 2012 Peabody Award, the Emmy-nominated GPS features Zakaria's fascinating panel discussions and one-on-one interviews with heads of state, intellectuals, and business leaders. His columns and cover stories — ranging from the future of the Middle East and America's role in the world to the politics and culture of the global economy — reach millions of readers.
Zakaria's international best seller The Post-American World is about the "rise of the rest," analyzing the growth of China, India, Brazil, among others, and what it means for the future. The New York Times called it "a relentlessly intelligent book," while the Boston Sunday Globe wrote, "Zakaria…may have more intellectual range and insights than any other public thinker in the West." His previous New York Times best seller, The Future of Freedom, has been translated into more than 20 languages and was called "a work of tremendous originality and insight" by the Washington Post.
Born in India and educated at Yale and Harvard, where he received his PhD, Zakaria became the youngest managing editor of Foreign Affairs at 28. He was the editor of Newsweek International from 2000 to 2010 and Editor-at-Large at TIME from 2010 to 2014.
Zakaria serves on the board of the New America Foundation. He has won the Deadline Club Award for Best Columnist, a National Magazine Award, two Overseas Press Club Awards, and the Padma Bhushan. His work has appeared in The New Yorker, The New York Times, The Wall Street Journal, and Slate. Foreign Policy magazine named him one of the Top 100 Global Thinkers.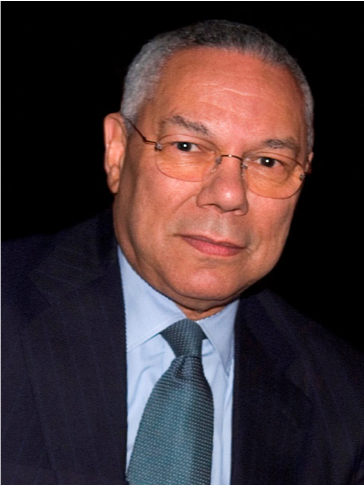 Colin Powell For over 50 years, General Colin L. Powell, USA (Ret.) has devoted his life to public service. Having held senior military and diplomatic positions across four presidential administrations, Powell's deep commitment to democratic values and freedom has been felt throughout the world.
The son of Jamaican immigrants, Powell was born in Harlem in April 1937 and was raised in the South Bronx. He was educated in the New York City public schools and attended the City College of New York where he earned a Bachelor of Science degree in Geology. It was not until he joined the Army ROTC program at CCNY that he discovered his calling and launched his military career. He received a commission as an Army second lieutenant upon graduation in 1958 and went on to serve in the United States Army for 35 years, rising to the rank of Four-Star General.
From 1987–1989 Powell served as President Ronald Reagan's National Security Advisor. He served from 1989–1993 as chairman of the Joint Chiefs of Staff for both President George H.W. Bush and for President Bill Clinton, and was not only the youngest officer and first ROTC graduate to ever serve in the position, but also was the first African American to do so. During his time as chairman, he oversaw 28 crises to include the Panama intervention of 1989 and Operation Desert Storm in the victorious 1991 Persian Gulf War.
Under President George W. Bush, Powell was appointed the 65th Secretary of State and was unanimously confirmed by the U.S. Senate. As Secretary of State, he led the State Department in major efforts to address and solve regional and civil conflicts. He used the power of diplomacy to build trust, forge alliances and then help transform these unstable regions into areas where societies and cultures have the potential to prosper. He also worked at the forefront of American efforts to advance economic and social development worldwide.
Among the many U.S. Military awards and decorations Powell has received are the Defense Distinguished Service Medal, the Army Distinguished Service Medal, Defense Superior Service Medal, Legion of Merit, Soldier's Medal, Bronze Star Medal and the Purple Heart. His civil awards include two Presidential Medals of Freedom, the President's Citizens Medal, the Congressional Gold Medal and the Secretary of Energy Distinguished Service Medal. In addition, he has received awards from over two-dozen countries to include a French Legion of Honor and an honorary knighthood bestowed by Her Majesty Queen Elizabeth II.
Powell is the chair of the Board of Visitors of the Colin Powell School for Civic and Global Leadership at his alma mater, the City College of New York (CCNY), which was inaugurated in May 2013. He also has nine elementary and middle schools named after him. He is the Founder and Chairman Emeritus of the America's Promise Alliance, dedicated to forging a strong and effective partnership alliance committed to seeing that children have the fundamental resources they need to succeed.
Powell is a strategic adviser at Kleiner Perkins Caufield & Byers, the renowned Silicon Valley venture capital firm. He serves on the Board of Directors of Bloom Energy, an alternative energy company that provides unique on-site power generation systems utilizing an innovative new fuel cell technology. In March 2014, he joined the Board of Directors of Salesforce.com, the world's largest provider of Cloud-based customer relationship management software.
He was previously on the boards of AOL, Gulfstream, Howard University, the United Negro College Fund and the Boys and Girls Clubs of America.
Powell serves on the Museum Council of the Smithsonian National Museum of African American History and Culture and is a member of the Council on Foreign Relations.
His autobiography, My American Journey, was a New York Times bestseller and has been published in more than a dozen different languages. Powell's second book, It Worked for Me: In Life & Leadership (May 2012), was an instant New York Times bestseller as well and reveals the lessons that shaped his life and career.
Powell is married to the former Alma Vivian Johnson of Birmingham, Alabama. They live in McLean, Virginia and have three children and four grandchildren.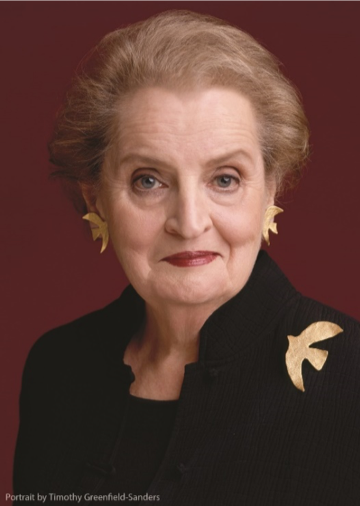 Madeleine Albright Madeleine K. Albright is Chair of Albright Stonebridge Group, a global strategy firm, and Chair of Albright Capital Management LLC, an investment advisory firm focused on emerging markets. She was the 64th Secretary of State of the United States. Dr. Albright received the Presidential Medal of Freedom, the nation's highest civilian honor, from President Obama on May 29, 2012.
In 1997, Dr. Albright was named the first female Secretary of State and became, at that time, the highest-ranking woman in the history of the U.S. government. As Secretary of State, Dr. Albright reinforced America's alliances, advocated for democracy and human rights, and promoted American trade, business, labor, and environmental standards abroad. From 1993 to 1997, Dr. Albright served as the U.S. Permanent Representative to the United Nations and was a member of the President's Cabinet. From 1989 to 1992, she served as President of the Center for National Policy. Previously, she was a member of President Jimmy Carter's National Security Council and White House staff and served as Chief Legislative Assistant to U.S. Senator Edmund S. Muskie.
Dr. Albright is a Professor in the Practice of Diplomacy at the Georgetown University School of Foreign Service. She chairs the National Democratic Institute for International Affairs and serves as president of the Truman Scholarship Foundation. She serves on the U.S. Department of Defense's Defense Policy Board, a group tasked with providing the Secretary of Defense with independent, informed advice and opinion concerning matters of defense policy. Dr. Albright also serves on the Board of the Aspen Institute. In 2009, Dr. Albright was asked by NATO Secretary General Anders Fogh Rasmussen to Chair a Group of Experts focused on developing NATO's New Strategic Concept.
Dr. Albright's most recent book is the #1 New York Times bestseller Fascism: A Warning (2018). She is the author of five other New York Times bestsellers: her autobiography, Madam Secretary: A Memoir (2003); The Mighty and the Almighty: Reflections on America, God, and World Affairs (2006); Memo to the President: How We Can Restore America's Reputation and Leadership (2008); Read My Pins: Stories from a Diplomat's Jewel Box (2009); and Prague Winter: A Personal Story of Remembrance and War, 1937- 1948 (2012).
Dr. Albright received a B.A. with Honors from Wellesley College, and Master's and Doctorate   degrees from Columbia University's Department of Public Law and Government, as well as a Certificate from its Russian Institute. She is based in Washington, DC.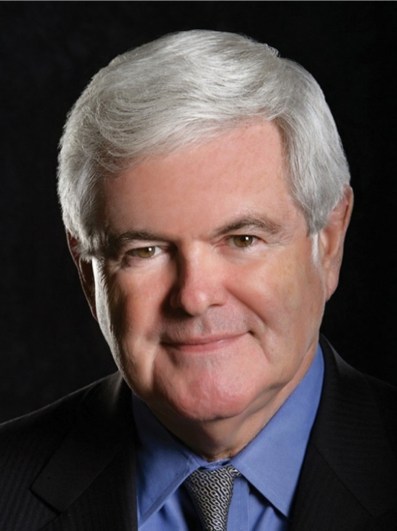 Newt Gingrich An intellectually fearless visionary and historian, Former Speaker Newt Gingrich is one of the foremost economic, social, political, and security-focused conservative thinkers today. He is well-known as the architect of the "Contract with America" that led the Republican Party to victory in 1994 by capturing a majority in the United States House of Representatives for the first time in 40 years. Newt was also a Republican candidate for president of the United States in 2012. Today, Newt is chairman of Gingrich 360,
a full-service American consulting, education and media production group that connects the past, present and future to inspire audiences, solve challenges and develop opportunities. The company serves a fortune 500 client base with consulting services and creates award-winning, entertaining media projects. Additionally, Newt participates in about 30 marquee speeches and events around the world each year.
Newt is a Fox News contributor and the host of the Newt's World podcast, a dynamic new weekly series that offers context to today's world through entertaining stories and conversations. The podcast is distributed by Westwood One. A prolific author, Newt has published 36 books including 16 fiction and nonfiction New York Times bestsellers, such as Understanding Trump, and Trump's America: The Truth About Our Nation's Great Comeback. He writes two newsletters a week. Newt's historical fiction works include Gettysburg, Pearl Harbor, and To Try Men's Souls. These intriguing novels are active historical studies in the lessons of warfare based on fictional accounts of historic battles and how they shaped our nation. He also writes political thrillers focused on Washington intrigue and international terrorism. Newt's latest political novel, Vengeance, is the third volume in his bestselling Brooke Grant series, which includes Treason and Duplicity. His next fiction series debuts in April with Collusion, a tale of international intrigue, adventure, betrayal, and politics that captures the tensions and divides of America and the world today.
Recognized internationally as an expert on world history, military issues, and international affairs, Newt is the longest-serving teacher of both the Joint War Fighting course for Major Generals and Capstone for rising generals. He also taught officers from all five services as a distinguished visiting scholar and professor at the National Defense University. In addition, Newt served as a Member of the Defense Policy Board. He was a member of the Terrorism Task Force for the Council on Foreign Relations, and he co-chaired the Task Force on United Nations Reform, a bipartisan Congressional effort to modernize and improve the UN. As Chairman of Gingrich 360, Newt continues to promote American values as he works toward thinking through and helping to solve our nation's greatest challenges in health care, education, national security and many other areas. Newt is married to Callista Gingrich, United States Ambassador to the Vatican, author of the Ellis the Elephant children's book series, and producer and host (with Newt) of nine documentaries of which the most recent is The First American.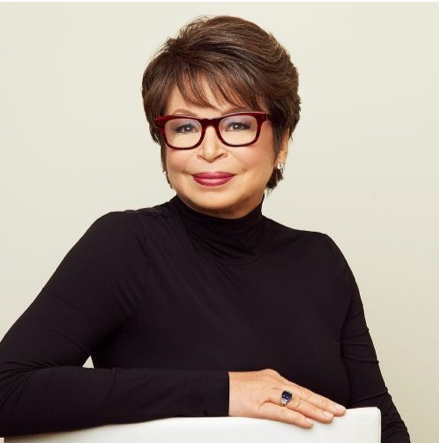 Valerie Jarrett Valerie B. Jarrett is a senior advisor to the Obama Foundation and Attn, a Senior Distinguished Fellow at the University of Chicago Law School, and President of the Board of When We All Vote. She also serves on the boards of Ariel Investments, 2U, Lyft, the John F. Kennedy Center for Performing Arts, and the Economic Club of Chicago.
Ms. Jarrett was the longest serving Senior Advisor to President Barack Obama. She oversaw the Offices of Public Engagement and Intergovernmental Affairs and Chaired the White House Council on Women and Girls. Ms. Jarrett worked throughout her tenure at the White House to mobilize elected officials, business and community leaders, and diverse groups of advocates. She led the Obama Administration's efforts to expand and strengthen access to the middle class and boost American businesses and our economy. She championed the creation of equality and opportunity for all Americans, and economically and politically empowering women in the United States and around the world. She oversaw the Administration's advocacy for workplace policies that empower working families, including equal pay, raising the minimum wage, paid leave, paid sick days, workplace flexibility, and affordable childcare, and led the campaigns to reform our criminal justice system, end sexual assault, and reduce gun violence.
Ms. Jarrett has a background in both the public and private sectors. She served as the Chief Executive Officer of The Habitat Company in Chicago, Chairman of the Chicago Transit Board, Commissioner of Planning and Development, and Deputy Chief of Staff for Chicago Mayor Richard M. Daley. She also served as the director of numerous corporate and not-for-profit boards including Chairman of the Board of the Chicago Stock Exchange, Chairman of the University of Chicago Medical Center Board of Trustees, and Director of the Federal Reserve Bank of Chicago. Ms. Jarrett has also received numerous awards and honorary degrees, including TIME's "100 Most Influential People" as well as the Abner J. Mikva Legal Legends Award.
Jarrett received her B.A. from Stanford University in 1978 and her J.D. from the University of Michigan Law School in 1981.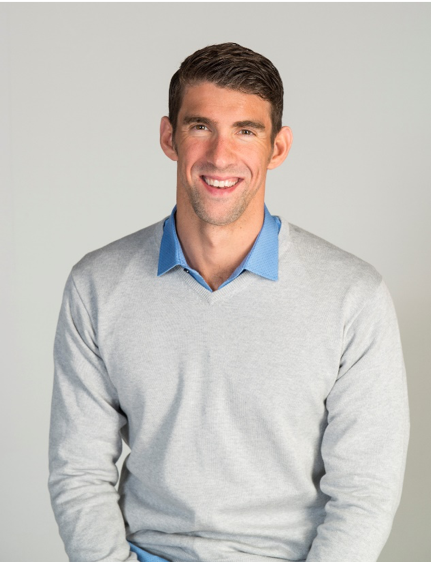 Michael Phelps Michael Phelps is the most decorated swimmer in history, capturing a total of 28 medals including a record-setting 23 gold medals, over the course of his career. Phelps utilized his performance bonus for winning eight gold medals in 2008 to establish the Michael Phelps Foundation, which promotes water safety, healthy living, and the pursuit of dreams. The Foundation's signature program – IM – is a learn-to-swim, healthy living, and goal-setting curriculum based on the principles and tools Phelps utilized in his swimming career, which is available through the Boys & Girls Clubs of America and Special Olympics International. The most decorated swimmer in World Championships history, Phelps launched the competitive swimwear brand – MP – in partnership with Aqua Sphere in 2014. He has published two autobiographies – No Limits: The Will to Success and Beneath the Surface – that were New York Times and USA Today bestsellers, as well as published one children's book – How to Train with a T-Rex and Win Eight Gold Medals.