McCoy Award Honorees · Past Winners
The Ryan Family (2010)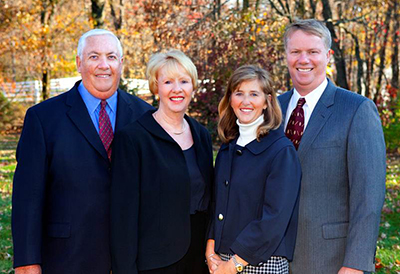 New Albany is fortunate to have many multiple-generation families living in the community. Perhaps none have been more actively engaged in the community than the Ryan Family – David, Ellen, Mark and Sarah.
David chaired the New Albany Community Foundation Board of Trustees for three years, guiding the Foundation through the milestone project of building and endowing the Jeanne B. McCoy Community Center for the Arts. In 2003, Ellen and David established the Ellen & David Ryan Fund at the Foundation, which has supported projects such as the McCoy Center, New Albany Library, restoration of the Phelps House and grants in support of artist residencies at New Albany Elementary School. They have been the primary benefactors to their church in New Albany, granting the single largest gift to its capital campaign and building a rectory to house the parish's priests.
With most of these projects, the Ryans were among the first supporters. Their thoughtful approach to philanthropy and active leadership has brought instant credibility to these causes and undoubtedly influenced others to give as well.
Beyond New Albany, Ellen and David have made significant gifts to the James Cancer Hospital, the Columbus Museum of Art and Nationwide Children's Hospital. David currently chairs the James Cancer Hospital Foundation board. He formerly chaired the boards for the Rosemont Center and the Columbus Catholic Foundation. In 2007, David was awarded the Outstanding Philanthropist Award during the National Philanthropy Awards luncheon in Columbus. Ellen serves on the boards of the Columbus Museum of Art and her alma mater, Mercyhurst College.
Mark, Ellen and David's son, and his wife Sarah focus their efforts in the areas of education, community and faith. Mark presently serves as the President of the New Albany-Plain Local School Board of Education. He also is an original member of the Board of Directors for the McCoy Center. In both capacities, Mark has devoted countless hours and been recognized for his quietly effective approach to advancing both organizations. Mark's wife, Sarah, has served as President and Past President of the New Albany Women's Network (NAWN), chaired NAWN's Evening in New Albany benefit three times and served on the committee eight years. Through this event and others, NAWN has raised hundreds of thousands for local charities that support families and children. Sarah also currently serves on the Women's Board of the Franklin Park Conservatory. In 2005, Sarah and Mark established the Ryan Family Fund at the Foundation to support a lecture series at the McCoy Center for students and residents. As a family their sense of community extends well beyond New Albany. For three generations, the Ryans have volunteered at St. Stephen's Community House, a multi-service social agency that provides a wide range of programs to improve people's lives through education and social services including such basic human needs as housing, food, clothing and healthcare.