McCoy Award Honorees · Past Winners
John W. Kessler (2013)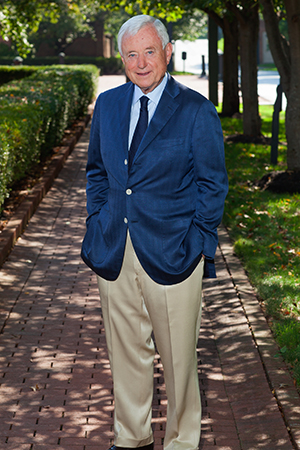 Were it not for Jack Kessler's power of persuasion, New Albany as we know it today might never have been. In the late 1980s, Jack's college friend Les Wexner shared that he'd like to build a house in the country, and so began Sunday afternoon driving tours for the two friends throughout central Ohio. Months were spent searching for the ideal location. Jack was convinced that New Albany was the right choice, citing the abundance of beautiful countryside located in such close proximity to the outer belt, the airport and downtown Columbus.
Reflecting on the deliberations, Wexner said, "Jack just kept saying, 'You know, you really should think about New Albany,' and the rest is history. Everything that has happened in New Albany is the result of Jack's interest in the community. He's just a wonderful citizen who cares about New Albany Schools, cares about New Albany government, and cares about the quality of the community."
More than 25 years later, Wexner, Kessler and their families proudly call New Albany home. Both are as active now as when the two first assembled a group of renowned designers and planners to develop a master plan of the highest standards for New Albany. Today, New Albany has blossomed into a nationally recognized community known as much for its strategic development as for its vibrant quality of life, connecting residents and businesses to one another through a shared appreciation of lifelong learning, arts and culture, health and wellness and environmental sustainability.
Kessler has been a champion of these shared community values from the very beginning, having envisioned a community foundation for New Albany that could unite individuals and organizations around programming and projects to enhance the quality of life for all those who live or work here. With the newly appointed superintendent of New Albany Schools, Dr. Ralph Johnson, Kessler co-founded the New Albany Community Foundation in 1993.
Today, the New Albany Community Foundation still relies on Kessler's seasoned leadership as a member of the board even as his involvement in other New Albany and central Ohio organizations continues to grow. Kessler is a member of The Columbus Partnership, The John Glenn School of Public Affairs, The New Albany Surgical Hospital Foundation Board, and serves as board member for the Columbus Downtown Development Corporation. His list of past involvement includes serving as chair of a number of central Ohio institutions, including The Ohio State University Board of Trustees, Ohio Public Works Commission, United Way of Central Ohio, Columbus Chamber of Commerce, Columbus Museum of Art and The Ohio Arts and Sports Facilities Commission as well as the Columbus School for Girls.
Commenting on the importance of Jack's community stewardship, Abigail Wexner remarked, "Jack has been the force behind everything that really works for community good in New Albany. Whether it was the development of the New Albany Community Foundation, support for New Albany Schools or getting large projects like the Jeanne B. McCoy Community Center for the Arts off the ground, Jack has been there to connect people and organizations in a way that makes things happen."
Kessler is reluctant to take credit for much of his work, preferring instead to remain behind the scenes and direct the praise to others, including the many community volunteers and public officials that contribute to New Albany's success. "New Albany is an extraordinary place with such a collaborative spirit," explains Kessler. "We have an active group of residents who not only dream big, but then go out and get it done."
"The land is planned well and we have a high -quality development, but it has really evolved into so much more. We have a very solid community foundation, an arts center, a fabulous library, schools that have been transformed, the number-one walking event in the country, world-class equestrian sports through The New Albany Classic Invitational Grand Prix & Family Day, a new community health destination under construction, a vibrant farmers market, and the list goes on and on. All of these initiatives have come from the grassroots level and now are a part of our daily lives. Our identity as a community is so solid, and I think that long after Les and I are gone, even 100 years from now, New Albany will be just as wonderful as it is now. Maybe even more so."
John F. Wolfe, Chairman and CEO of The Dispatch Printing Company and longtime friend of Kessler, perhaps summed up Jack's impact best. Wolfe said, "I think back to when I was a student at Columbus Academy, and at that time we played New Albany in football. You'd buy your 35-cent student ticket and they always gave you a map to the school because nobody knew how to get to New Albany in those days. Certainly a far cry from what it is today-the growth of New Albany has just been remarkable, and not only in Columbus but nationally, and Jack has certainly been an integral part of that."
As we walk through New Albany today­ admiring the beautiful natural scenery, stately architecture and vibrant village center-we can see the potential Kessler and Wexner saw through the car window on their monthly excursions more than three decades ago. Harder to imagine is what New Albany would be today without Kessler's vision, guidance and dedication to creating a community we can all be proud of.