McCoy Award Honorees · Past Winners
Jennie & Mark Wilson (2015)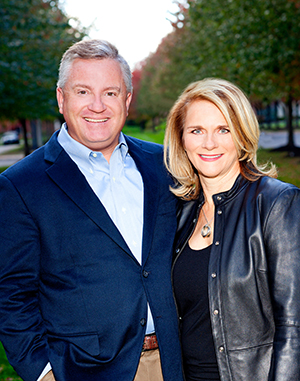 Jennie and Mark Wilson embody the spirit of the Jeanne and John G. McCoy Community Service Award. The Foundation is pleased to recognize their service to our community with the 11th annual McCoy Award. Jennie and Mark are a
respected duo in day-to-day life here, quietly contributing their time and talent to New Albany in ways both big and small. Eleven years ago a new job brought Jennie and Mark Wilson to central Ohio from Boston. Jennie, who had accepted a finance position here, happily was returning to her hometown where her family remained. It perhaps was more difficult for Mark, who is a native of Boston and who was in a committed, lifelong relationship with the Red Sox. At the time they chose New Albany, the Wilsons had three sons ages 10, 8 and 3. For those who knew
the Wilsons, there was little doubt that when they arrived they would be actively engaged in community building. Years later, it's difficult to imagine New Albany without this energetic, generous family. With two New Albany graduates, Connor, a senior at Furman University and Ryan, a sophomore at Notre Dame, and Jack, presently a ninth grader at New Albany High School, the Wilsons have helped shape our town through their significant contributions of time, talent and treasure. And their involvement extends to Greater Columbus as they have supported a number of causes beyond New Albany.
Jennie served on the board of the Furniture Bank of Central Ohio for eight years, eventually chairing the board during a time of significant organizational growth as it endeavored to support the growing number of people making the transition from homelessness to stable housing. Additionally, she is a dedicated Pelotonia cyclist, having ridden the past five years and achieving "High Roller" status each year in recognition of her fundraising results for cancer research. Jennie serves on the advisory committee for The Handshake Foundation and is a board member
of both The Catholic Foundation and The Jeanne B. McCoy Community Center for the Arts. "Jennie's sound judgment and strategic thinking has benefitted the McCoy Center as we continue to expand our cultural and educational offerings," said Jill Beckett-Hill, chair of the McCoy Center Governing Board. Jennie is a proud and active alum of Notre Dame and regularly participates in the Notre Dame mentoring program, which pairs successful professionals with Notre Dame students. Jennie enjoys sharing her experiences and offering guidance to these students, several of whom have been interns in central Ohio companies.
Much of Mark's community service has been focused on New Albany, with significant volunteer time invested in advocating for our schools and supporting participation and excellence for our student athletes. Mark serves as chair of New Albany for Kids, a group that advocates for the schools. He was a driving force in establishing an endowment fund to support scholarships for students who might not have otherwise been able to participate in extra-curricular activities. New Albany's athletic fields are a second home for Mark. He was a board member for New Albany Parks and Recreation, a board member and coach for New Albany Youth Football League, a commissioner and a coach for New Albany Little League. Mark was active in the successful effort to install a turf field at the high school and chaired the dedication ceremony which included veterans from throughout the community. He subsequently coordinated two more Veteran Recognition Nights at Veterans Field. He can be seen in good weather and bad, serving as a crosswalk guard for the schools. "Mark and Jennie are role models for what it means to be trustees, stewards and investors in the community in which you live," said New Albany resident and previous McCoy Award recipient, Ken Krebs. "They genuinely care about New Albany and they demonstrate it by giving generously of their time, their leadership and financial support."