McCoy Award Honorees
Jeanne & John G. McCoy (2004)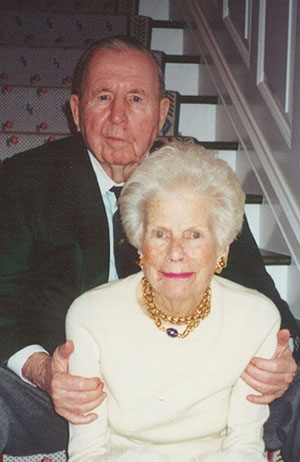 In 2004, the Foundation established the Jeanne and John G. McCoy Community Service Award to recognize a person or persons who made a significant, positive impact on the New Albany community through their accomplishments, contributions and community service in keeping with the mission of The New Albany Community Foundation.
Perhaps no couple better exemplifies community service more than John G. McCoy and his late wife, Jeanne. In its inaugural year, the award was presented to its namesakes, Jeanne B. and John G. McCoy.
Perhaps no couple better exemplifies community service more than the McCoys. Together, the McCoys were major stakeholders in the planning and growth of New Albany after leaving their longtime home in Bexley in 1991.
A banker by trade, John G. McCoy is credited for growing a local Columbus bank into an admired national financial Institution while transforming the entire banking industry along the way. He was quick to share credit for any business success with his employees, who he always said were the company's greatest asset.
As a 1935 graduate of Marietta College, Mr. McCoy began his career at City National Bank and Trust in Columbus in 1937. After serving in the United States Navy during World War II as Chief Financial Advisor to the War Production Board, he returned to his banking career. He became President of City National Bank in 1958, and rose to become its Chairman and C.E.O., while building the bank into the Banc One Corporation. He served as President and C.E.O., Vice Chairman and C.E.O., and Chairman of the Executive Committee of Banc One, retiring in 1984.
Together, the McCoys' record of philanthropy is legendary. Deeply committed to the central Ohio community, the McCoys played a vital role in the cultural and educational life of New Albany and greater Columbus through multiple scholarship programs, support of the Columbus Museum of Art, the American Red Cross of Greater Columbus, Nationwide Children's Hospital, Habitat for Humanity, and the Columbus Foundation. As a founding board member of The Ohio State University Foundation and the Arthur G. James Cancer Hospital and Research Institute, Mr. McCoy was instrumental in achieving several major undertakings at the university, including the successful completion of the five-year University Campaign and the construction of the James Cancer Hospital. They were also supportive of a wide range of other university activities and programs, including the colleges of Business and Law, the Historic Costume Collection, athletics, and the WOSU radio and television stations.
No donation was more important to Mrs. McCoy than the $1.2 million gift she gave in 1994 to Ohio State, her alma mater, to underwrite the Jeanne Bonnet McCoy Presidential Scholars Fund. The fund provides Ohio State Presidential Scholarships to two women and two men each year for up to four years for each student. "She really fell in love with the scholar program," son John B. McCoy said of his mother. He explained she always appreciated what education had meant to her, and believed these students' accomplishments would help the world become a better place. As a result, she took a special interest in the students. "She had them out to the house and followed what they were doing in school and in their lives," he said.
In 1995, Ohio State, in appreciation of her support, presented Mrs. McCoy with an honorary degree in humane letters. But that didn't begin to recognize the affect she has had on the scholars and their families, admirers say. When Kate Fitzpatrick, one of her former scholarship winners, spoke at Ohio State University's spring commencement in 1999, she talked emotionally about the impact that Mrs. McCoy had on her life. "This woman had welcomed me into her home, invited me to lunch, and, in effect, did far more than just opening her checkbook. She gave of herself. What did it mean to me as a senior in high school? Simply put, it meant everything."
When the New Albany community developed plans to build a community center that would provide continuing educational and cultural programs for the schools and community, John G. McCoy felt it only natural to participate in the project in a way that might honor his wife, who died in 2006, two years before the arts center was completed. Through his meaningful gift, Mr. McCoy was able to pay tribute to his wife by naming this building the Jeanne B. McCoy Community Center fur the Arts. His gift will also endow programs at the McCoy Center to be enjoyed by audiences for many years to come. The McCoys have touched numerous lives and inspired an entire new generation of philanthropists.