McCoy Award Honorees · Past Winners
Jackie & Ken Krebs (2014)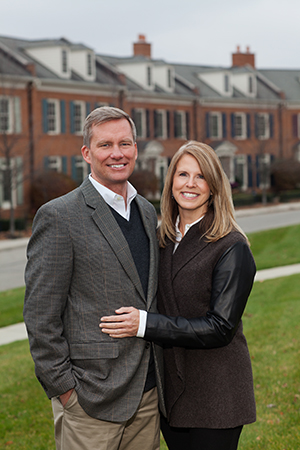 Jackie and Ken Krebs embody the spirit of the Jeanne and John G. McCoy Community Service Award. The Foundation is pleased to recognize their service to our community with the 11th annual McCoy Award. Jackie and Ken are a respected duo in day-to-day life here, quietly contributing their time and talent to New Albany in ways both big and small.
Moving to New Albany in 1997 with a young family, the Krebs were involved from the very start with three children attending New Albany Schools. The family was very involved in athletics at the youth league level, and that continued with middle school and high school sports, where their children participated in basketball, softball, football, lacrosse and baseball and achieved success in academic and leadership endeavors as well.
The Krebs have been longtime supporters of the Foundation through annual giving, but several years ago made the decision to establish a family fund. The first leadership gift made from the Krebs Family Fund was a $160,000 donation toward the turf field installed at New Albany High School's Eagle Stadium in 2013.
Mark Wilson, New Albany resident and member of the turf campaign committee, says, "Ken and Jackie are at the heart of so many good things in New Albany. The turf leadership gift is just one example. On the night the field was dedicated, it was very moving to hear Ken speak about how the gift would help honor veterans and active-duty service members now and in the future, particularly as our own city council member and WWII veteran Glyde Marsh stood by his side."
Jackie devotes significant time volunteering with nonprofit Healthy New Albany as president of the Community Garden board and as a co-manager of the Farmers Market. Her involvement with the Farmers Market has helped increase vendor numbers from 40 per market to more than 60 per market.
Substantial growth has also occurred in the customer base with over 1,200 people shopping the weekly markets each summer. In fact, demand has been so strong that winter markets were added last year. The development and growth of these activities are entirely volunteer-driven, and Jackie's role as a manager has been instrumental.
"In her roles, Jackie conducts herself with competence, enthusiasm and patience," says Phil Heit, founder of Healthy New Albany. "Her ability to handle a multitude of requests and details while maintaining a complete sense of calmness helps facilitate positive energy among the team of volunteers with whom she works."
The Krebs are still contributing to their family fund and plan to use some of the money to support additional school causes­ both academic and athletic. They view their donations as a way to demonstrate their gratitude for all the community has given to them and say the Foundation is a huge help in connecting donors to causes in which they're interested.
"The Foundation has played a tremendous role in New Albany. It gives an opportunity for families like ours and others to give back…and you can do it in a way that I think is strategic," Ken says. "The Foundation is a great facilitator and a conduit for bettering the community as a whole."
Craig Mohre, president of The New Albany Community Foundation, says, "The Krebs think strategically about their philanthropic investments and derive a lot of satisfaction from having an impact. And in doing so, they inspire others."