McCoy Award Honorees · Past Winners
Cindy & Keith Berend (2016)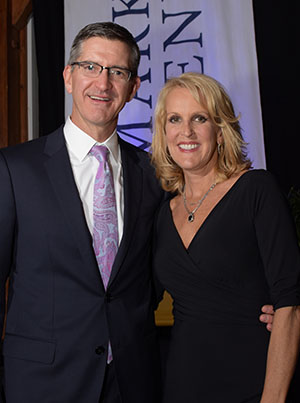 This past spring a dozen high school students anxiously gathered at the New Albany Community Foundation office. They were among the first to view and hold first edition books and manuscripts of seminal thinkers such as Cicero, Thomas Jefferson, Aristotle, Frederick Douglas and John Adams. Said one student, "We just read Homer's Odyssey in class and now I'm holding the actual book dated 1669."
The books and materials were part of The Remnant Trust Collection, which was established so that ordinary citizens could examine, read and discuss great works on individual freedom and liberty. Bringing the exhibition to New Albany for a month and having it on display at the New Albany branch library for the benefit of students and the community was conceived and made possible by New Albany residents, Cindy and Keith Berend, this year's McCoy Award honorees.
For those who know the Berends, it comes as no surprise that they were the driving force behind an initiative that brought people of all ages together around a unique learning opportunity. The Berends have raised two daughters in New Albany and are ardent community boosters. They have devoted their time, talent and treasure in New Albany and to other causes near and dear to their hearts.
The Berend's involvement in New Albany was led by Cindy Berend, who has been a fixture at New Albany Schools since their daughters, Taylor and Molly, started kindergarten shortly after the family moved to the community. From Baggie Books to the house system to athletics and more, Cindy has devoted countless hours to supporting and enhancing the student experience at New Albany schools. Her day-to-day volunteerism there enabled her to identify areas of need, and she and Keith routinely took action to help fill that need. Through The Foundation, the Berends funded bicycle racks at the high school, were major contributors to the Veteran's Field Turf Campaign at Eagle Stadium, supported extracurricular scholarships for students and funded new competitive starting blocks in the high school natatorium. Keith, a member of the Foundation Board of Trustees, has been nationally recognized for his work with Operation Walk, an organization that provides free hip and knee care in third world countries. As an
orthopedic surgeon, Keith has worked through Operation Walk for the past decade in Guatemala and Nicaragua, dramatically impacting the quality of life for over 1000 patients and their families.
Additionally, Keith has devoted significant time in service by nurturing and developing the skills of others in orthopedics, providing scholarships and grants to orthopedic students, funding a biology lab at his alma mater, Florida Southern College, and establishing the Emily Berend Adult Reconstruction Symposia which takes place annually at Duke University.
Like their parents, Taylor and Molly have made community service a priority. Their
involvements range from coaching youth athletics, to working with disabled children, mission trips with Operation Walk to Central America.
When asked about the family's support of the community, Keith Berend explained,
"Cindy and I have worked hard to build a life and have been very fortunate. We wanted to share our skills and success along the way and teach our daughters how being involved can not only have an impact on the community but also enrich their own lives."
"Through their good work and generosity, the Berends have served as models to other young families with respect to having an impact and shaping the community for the better," said Foundation President, Craig Mohre. "I know other families were motivated to get involved because of the joy the Berends demonstrated through their philanthropy."